By Nida Faruqui
Mumbai, January 4: Around 86,000 employees from state energy companies including MSEDCL, Mahagenco and Mahatransco, and 40,000 other contractual workers have gone on a 72-hour strike starting today, affecting over 2.8 crore electricity consumers across Maharashtra. The strike is to oppose the entry of private player Adani Transmission Ltd in the power distribution business in parts of Mumbai Metropolitan Region.
Adani Power Company has applied for a parallel license to the Maharashtra Electricity Regulatory Commission in the areas under the jurisdiction of Mahavitaran in Bhandup, Mulund, Thane, Navi Mumbai, Panvel, Taloja, and Uran areas.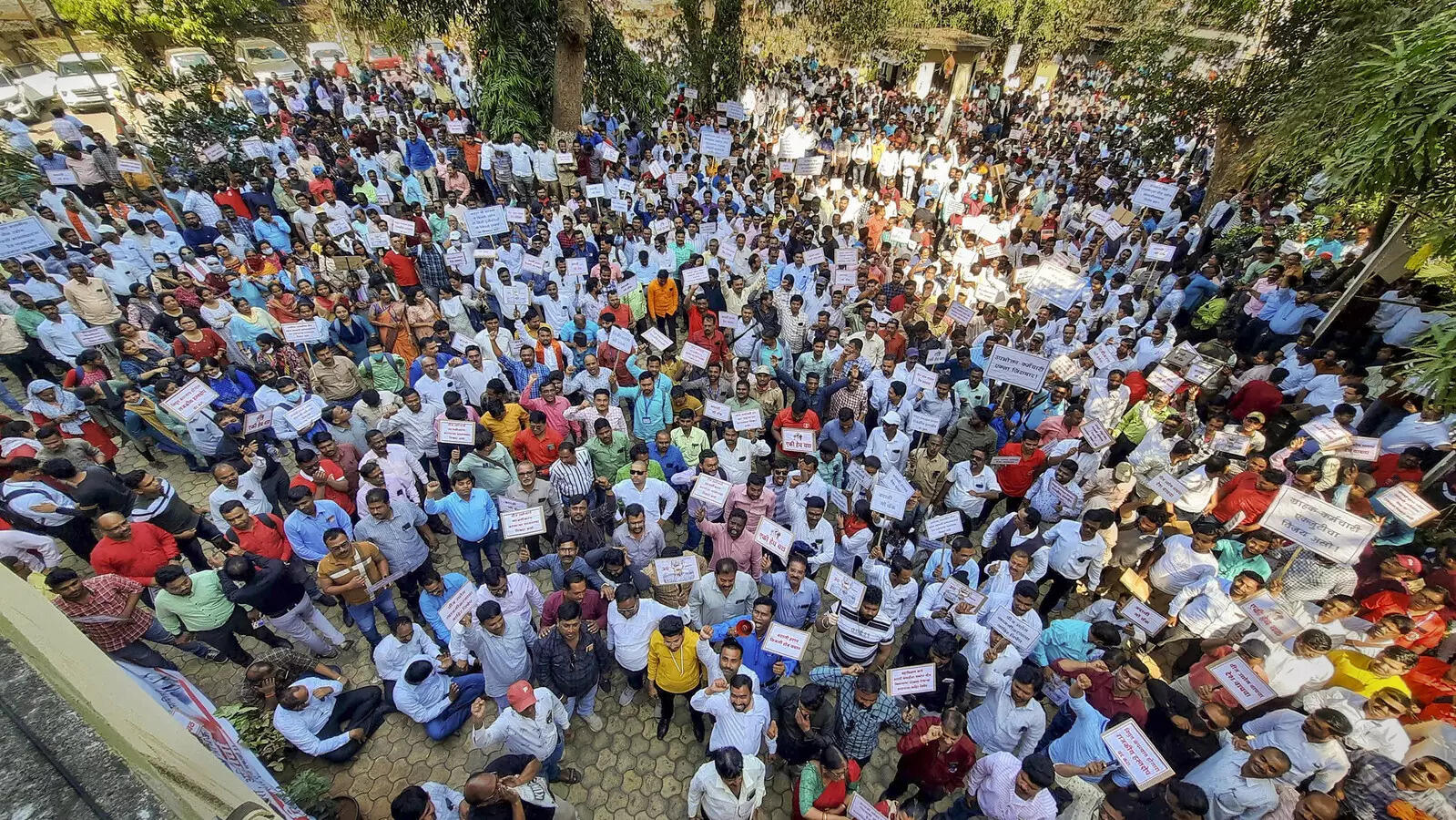 The state has issued a notification, stating that "it has decided to invoke provisions of Maharashtra Essential Services Maintenance Act (MES-MA) against striking staffers". Deputy CM Devendra Fadnavis has called for a meeting of union leaders this afternoon to "resolve the issue".
Earlier Aam Aadmi party expressed its support towards the strike, stating that this is yet another conspiracy by the BJP to promote privatisation. The AAP spokesperson, Preeti Sharma Menon said, "Aam Aadmi Party opposes the BJP government's conspiracy to hand over the state-owned electricity distribution company Mahavitaran (MSEB) to Adani Group. Aam Aadmi Party is against this crony capitalism and is against this policy of the government. The party firmly stands behind electricity employees."
Meanwhile, Mumbai Grahak Panchayat (MGP) has demanded that the state must apply Maharashtra Essential Services Maintenance Act (MESMA) on protesters with immediate effect as lakhs of consumers will be facing hardships. "They can't hold consumers to ransom. If they want to protest, they can do it at a proper forum, such as MERC hearings," said Shirish Deshpande from MGP.
The fear of privatisation was also expressed by the Maharashtra State Electricity Board. Mohan Sharma, the Electricity Board (MSEB) Workers Federation president, who is at the forefront of the strike, said, "We have four basic demands: opposing entry of Adani Transmission in other parts of MMR (Adani caters to 31 lakh consumers in Mumbai suburbs), 40,000 contractual staff should be regularised through a special recruitment scheme, opposing privatisation of hydro and thermal power plants, and stopping privatisation in laying transmission lines and setting up new sub-stations."
The areas of Bhandup, Mulund, Thane, Navi Mumbai, Panvel, Taloja, and Uran have been served by the MSEB. The move towards a license and take-over of several other projects by the Adani group is seen as a move towards privatisation by AAP. Preeti Sharma Menon alleged that, "Gautam Adani is a good friend of Prime Minister Narendra Modi. To benefit Adani, the Modi government has given the country's airports, BSES, India's ports and Dharavi redevelopment project to the Adani group. Now, it is the turn to give Mahavitaran Company to Adani."
AAP further said, "Mahavitaran Company distributes electricity in the villages of Maharashtra at moderate and subsidized rates. If the Mahavitaran Company is privatized and handed over to Adani Group, the Adani Power Company will also distribute electricity at an increased rate to people in rural areas. Exorbitant electricity prices in rural areas are simply unsustainable. The Aam Aadmi Party is against this forced privatization, crony capitalism and we demand that this decision should be withdrawn immediately."
To clarify the matter, Vishwas Pathak, the MSEB holding company director, said, "It is not the government which is granting parallel distribution licence to Adani Transmission, but the MERC, which will take a final call. Hence, it is not justified to hold the state responsible. Besides, Electricity Act, 2003, empowers MERC to grant a licence to two or more distribution companies within the same area of supply. Similar parallel distribution licence already exists in Mumbai where Adani Electricity, BEST, and Tata Power compete to supply power."
Anil Kamble, MSEDCL chief spokesperson, assured that there is a "back up plan". An empanelled agency will provide manpower to replace ground-level workers on strike. Workers who do not participate in the strike will be retained on contract and retired MSEDCL staffers will be called back. The support of electrical staff from other departments, such as PWD, will also be there," he added.
Devendra Fadnavis, DCM and head of state power ministry, has directed MSEDCL to ensure that farmers get power supply during daytime through implementation of 2,500 MW of solar power projects across state. Vijay Singhal, MSEDCL managing director said, "Solar projects of 546 MW have been implemented which has already benefitted 90,000 farmers. The other projects are in the process of being implemented."
A media statement issued by MSEDCL on Tuesday stated, "Out of the 1,000 MW solar projects for which tenders were floated, the last date for receiving bids for 550 MW project will be January 16, while the deadline for 450 MW project will be January 30,. For the 550 MW project, the state is acquiring 2,100 acre of land; it will acquire 1,700 acres for the 450 MW solar projects."
Latest posts by Nida Faruqui
(see all)