Thousands of people gathered in Dadar, Ranade Road to celebrate Gokul Ashtami, a Hindu festival dedicated to lord Krishna. The pandals at different locations were set up by the members of the BJP party and invited different groups to come and break the handi's with full enthusiasm. The handi's were decorated with flowers and different colors and hung with a rope. The groups were rewarded with Krishna's trophy and money depending upon the size of the pandal.
 I had a chance to speak to the president Mr. Rahul Jadhav of a group named "Chandrakant Mitra Mandal". He mentioned that they started practicing 2 months before the Janmashtami and dedicated a decent amount of time to the same, the team consists of 150 members, he also mentioned that building up the human pyramid takes a lot of effort and willpower.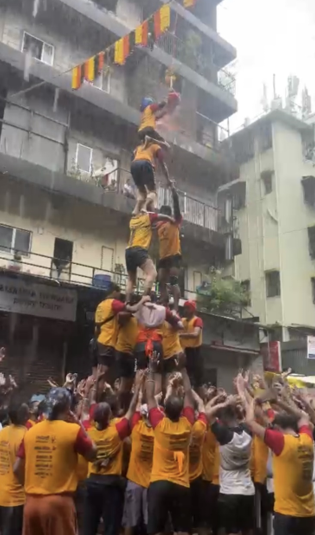 The group had come from Worli and they were breaking every handi on their way. The group is formed by friends and nearby neighbors. They wore the same yellow colored t-shirts, which meant positivity, energy, and hope to them. The money was put in by the members themselves. The group took me to different locations like Shivaji Park in Dadar and showed me around different pandals. They started their day at 11 am and returned back home by 11:30 p.m. After Dadar, they had planned to go to Ghatkopar, Vikroli, and Thane but due to excessive rain, they had to cancel. At the end of the day, they won 5 trophies and won a cash prize of rupees 27 thousand. In total, they broke 12 handi's.  
There was proper police security and two to three ambulances near big crowds to make sure that everything went smoothly. There were also water tanks to shower people with water after each handi broke.
In Khar West, Mumbai the crowd for this was significantly less, and hardly saw any group or people celebrating Gokul Ashtami, because of that I decided to visit nearby temples. I went to Radha Krishna temple and saw how aesthetically it was decorated. Therefore it was evident that despite the culture of breaking handi all over Mumbai, Dadar was the most visited and reached out location for the festival and especially dahi handi, With the end of Janmashtami, the entire city of Mumbai is all pumped up for Ganesh Chaturthi.
Latest posts by Premsimran Saini
(see all)