Gerald Ratner was a man who could do no wrong, living the luxurious life, expensive cars, trips to fancy country clubs, brunch and dinners with high-profile personalities, and a blossoming jewellery business that earned him millions. He felt like no one could touch him, until that fateful day of April 23, 1991, where one single speech caused him to lose all that he worked for over a decade in a matter of just 10 seconds, unbelievable right? Well, this is a true story! 
Who is Gerald Ratner?
Gerald Ratner is a businessman and motivational speaker and was formerly the chief executive officer of  Ratners Group now known as the Signet group. He started working for his father in the year 1965 when he was just 15 years old, soon after being expelled from Grammar School for 'being too stupid'. 
His father owned a small jewellery business that was not doing very well at the time. He spent his youth cleaning the shop, running errands and understanding how the business operated. By the time he inherited the company in 1984, it consisted of 120 old-school styled jewellery stores specifically designed for the elitist in the city. At this point in time, Ratners Group (then known as Ratners) was posting annual losses of £350k (US$459k).
How did he turn Ratners Group into a Multi-Million Dollar Empire
Back in the 1980s, jewellery had largely been for the elitist. The average cost of an item was around £350, thus making it a privilege for only the rich. Gerald decided to branch off from his competition and completely change his target demographic.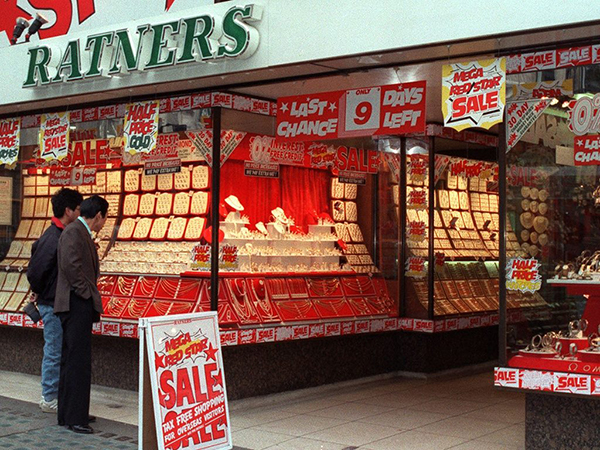 He decided to make earrings, bracelets, and rings for the working class with an average cost of around £20 and going as low as £1. "I put the earrings and chains in the front of the window and diamond rings at the back, and played pop music," he later told the Financial Times.
Although he was often accused by his competitors and the press for his products being cheap and tacky, this approach completely changed his fortunes. By the 1990's he grew Ratners from 120 to more than 2,000 stores and captured over 50% of the UK's jewellery market. He also bought competing chains like Jared and Kay Jewelers.
The Speech that made him lose his fortune
Ratner's success earned him an invitation to speak at the Institute of Directors which was attended by over 6000 business people and journalists.
Ratner had been preparing for his speech for months. He had even submitted a draft of the speech to a public speaking consultant upon which he was advised to add some jokes to his speech. He was told that people loved his jokes, Ratner however, took this advice to an extreme.

His speech begins innocently enough, where he talks about the quality, price, and growth of the Ratner's Group, however 3 minutes into the speech, he starts with his brutally honest jokes.
"Ratners doesn't represent prosperity — and come to think of it, it has very little to do with quality as well," he began. "We do cut-glass sherry decanters complete with six glasses on a silver-plated tray that your butler can serve you drinks on, all for £4.95. People say, 'How can you sell this for such a low price?' I say, because it's total crap."
Then, a few minutes later, he further does damage by saying: "We even sell a pair of [gold] earrings for under £1," he said. "Some people say, 'That's cheaper than a prawn sandwich!'…I have to say, the sandwich will probably last longer than the earrings."
The Aftermath
The media had a field day with Ratner's comments and the next morning, Ratner woke up to terrifying news. Newspapers started posting headlines like "JEWELRY CEO CALLS HIS OWN PRODUCTS 'CRAP." His customers felt like they have been cheated. Ratner did try to put a humorist twist on his remarks by featuring special in-store promotions with witty content, however, the damage was already done. 
Ratner's share price dropped by £500 million (US$1.8B today), within one week of the speech. By the end of 1991, his share price had dropped by over 80%.
Customers across the country started boycotting his products which resulted in the loss of sales volumes and the closure of hundred's of stores and layoffs of a substantial number of its workforce
By November 1992, Gerald Ratner was let go as CEO of Ratner's Group and he had to sell shares of the company to pay off the £1B (US$1.3B) he owed the bank. He literally walked off with nothing.
Conclusion
In the world of Twitter, Facebook, Instagram, and other Social Media channels, it has now become extremely easy for CEO's and business owners to 'Do a Ratner'. The media can easily catch on any stupid comment by these digitally empowered business owners and that in turn can become a PR disaster. It is important that entrepreneurs learn from the past and avoid getting carried away by the power that comes with social media, and when in doubt, always consult with your PR team before you end up doing something crazy that you'll regret. 
Did you like today's #BlastFromthePast article? Let us know in the comments below and don't forget to share and subscribe to never miss out on PR campaign reviews, news and more

Latest posts by Odell Dias
(see all)